Atlas Mountain Race : Descriptif de l'Événement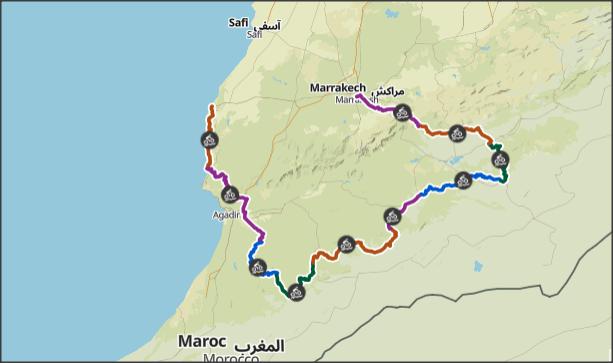 L'Atlas Mountain Race' est une course cycliste, principalement sur piste, en une seule étape, sans assistance, ni soutien externe. Les participants doivent suivre un tracé GPS prédéfini pour relier Marrakech à Sidi Rabat (proche d'Agadir) en passant par trois points de contrôle obligatoire. Le tracé fait 1145 kilomètres.

Étant une course sans assistance, ils doivent trouver leur propre ravitaillement et où dormir eux même. L'organisation ne leur fournit aucun soutien pendant la course. S'ils ont un problème mécanique, de même, c'est à eux de trouver comment réparer. C'est un test physique mais aussi d'autosuffisance.

Tous les participants sont équipés d'une balise GPS qui permet aux spectateurs de suivre la course sur internet grâce à une page web qui montre leurs déplacements pendant la course. Les balises on aussi une fonction de sécurité, il y a une fonction SOS qui leur permet d'appeler à l'aide en cas d'urgence.
Edition 2 du 06 au 13 février 2021
The route for the 2021 edition of the PEdALED Atlas Mountain Race will be very similar to where we took participants last year. Our plans to make more significant updates went the way of most other plans in 2020: the Covid-19 pandemic quickly had other ideas... That being said, the feedback from the first edition has us confident that the diversity of terrain, landscapes and difficulties encountered will, again, not disappoint those who join us in Morocco.
-
We are pleased to announce that we will again be working with @komoot as our official map partner. Komoot is a ride planning and sharing platform that allows everybody to better find, plan and live authentic outdoor experiences. Please head over to the Komoot platform, by following the link in our bio to discover the route in more detail and get a visual understanding of what it all looks like on the map!
AMR 2021 // REGISTRATION
We're pleased to announce that registration for the 2021 edition of the race is now open! It is not first come first serve so take your time. You have until the 30th of October to get your application in. We will then get back to you with the results of your entry on the 7th of November.
You will need to download and read the Race Manual (available at the start of the entry process) before filling out your application.
Our plans regarding the Covid 19 pandemic and its potential impact on the race are outlined in the race manual but also at the start of the registration process. Please be sure that you are clear on what this entails before signing up.
Head to our entry system partner, ADVNTR to get your application in for AMR 2021 by following the link below!
https://silkroad.advntr.cc/event/amr
Vidéo de l'édition 2020
AMR 2020 // OFFICIAL RESULTS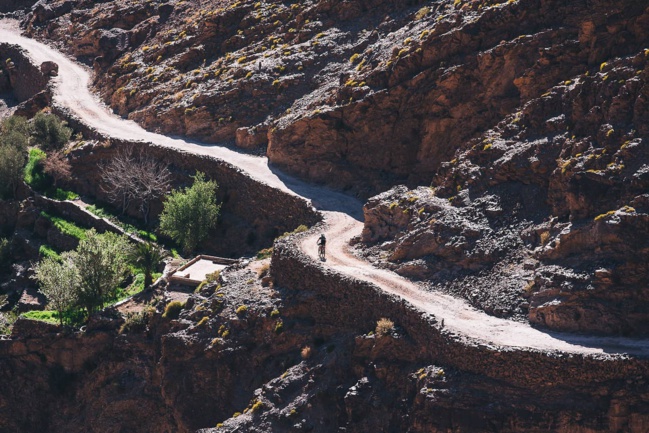 It's taken a while but we have finally gone through the laborious task of copying out the arrival forms from each of the checkpoints and gone over everyone's GPS track. I can already say that there are no major changes or disqualifications but we did impose a few penalties for some wrong turns and missed sections. We would like to point out that the penalties do not denote any deliberate malfeasance on the part of riders but are nonetheless necessary in the interest of fairness in relation to everyone that followed the entire route without exception. There are also riders who saw they had made a mistake and went back and corrected it at the time, and this must be recognised.
The rider arrival forms at each of the checkpoints are also interesting as you can see the big changes that sometimes occurred, with riders rising or dropping quite dramatically in the rankings throughout the race. I'd also like to draw attention to the fact that 122 out of the 183 starters were able to finish the race, an impressive 66% finish rate!
Head to the link below to download the official results!
https://mcusercontent.com/c27d436276c8f4b6f183b26d7/files/16031669-0823-4d19-807b-a311becf34a6/AMR_2020_Results_FINAL.pdf
Contact