Garmin Titan Desert 2020 du 02 au 07 novembre 2020 (Edition d'avril 2020 reportée)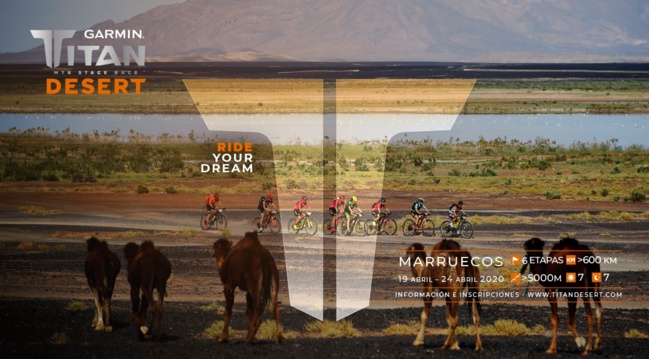 The 15th edition of the Garmin Titan Desert MTB stage race has had to be postponed and will take place next November (2nd to 7th of November, 2020). No changes apply to the previously announced race format.

The event was initially scheduled for 19th to 24th of April, 2020. The decision of postponement has been taken following several conversations with the Moroccan government and with the intention of continuing to work on the prevention of Covid-19 following the recommendations of health authorities and the World Health Organization with regard to international events.

Being well aware that this postponement alters the plans of participants, sponsors and organization, this decision has been taken as much in advance as possible and with the primary goal of preserving the health of all members of the Garmin Titan Desert caravan.

Edition 2019 du 28 avril au 03 mai 2019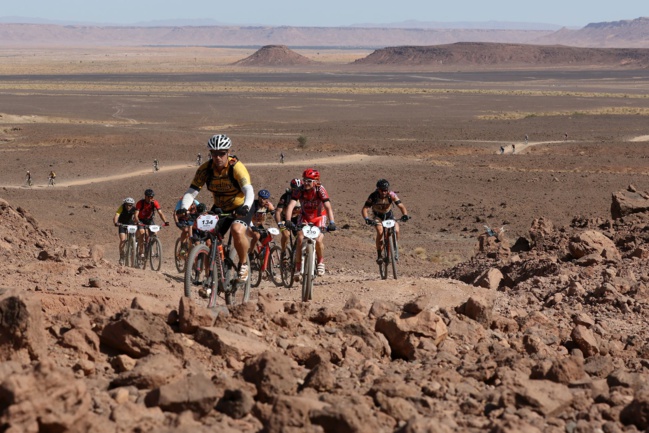 La Gaes Titan Desert by Garmin est une course à étapes de VTT de 6 étapes (+600km) ouverte à tous les amoureux du vélo, du sport et de l'aventure. C'est une compétition, mais avant tout un défi à relever. Le défi d'affronter ce que peu ont pu surmonter : le désert du Maroc.

Sur chacune des éditions de la Gaes Titan Desert by Garmin depuis 2006, les participants sont rentrés chez eux avec un sentiment d'accomplissement exceptionnel et des souvenirs pour le reste de leur vie. Ils ont vécu des moments très difficiles, des moments d'émotion inoubliables, qui resteront gravés à jamais dans leur mémoire.


Malgré les apparences, la Gaes Titan Desert by Garmin n'est pas pour les extraterrestres. C'est une course pour les passionnés de vélo qui recherchent un défi hors du commun pour mettre à l'épreuve leurs capacités physiques et mentales. L'événement attire des participants des quatre coins du monde et chaque année la communauté de titans grandit.

Nous ne dirons pas que c'est une course pour tous, car ce n'est pas le cas. Mais nous pouvons dire que les courageux en mesure d'affronter leurs peurs et de dépasser leurs limites seront capables de franchir la ligne d'arrivée. L'âge ou le vélo importent peu, tant que la passion et la volonté sont au rendez-vous !

L'âme de la course est imprégnée des efforts de tous les titans venus affronter le désert depuis sa création, venus en découdre et se prouver qu'ils étaient capables, ensemble, de relever le défi. Les grands champions venus participer à la course tel qu'Oscar Pereiro, Laurent Jalabert, Claudio Chiapucci, Roberto Heras, Abraham Olano ou encore Melcior Mauri ont fait de ce défi une légende.
Edition 2018 du 29 avril au 04 mai.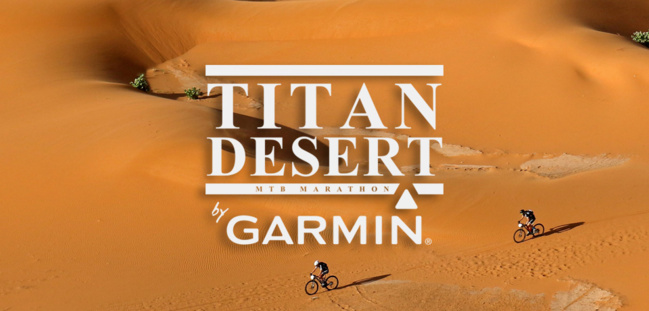 The GAES TITAN DESERT by GARMIN is a long distance race open to all fans of cycling, sports and self-sacrifice. It is above all an event that requires a desire to excel and a love of challenge: the challenge of achieving what few people in the world have managed to achieve to confront the desert, the extreme heat and the gruelling distances under the worst imaginable conditions.

All the previous editions have demonstrated the rewards of participating in this race. The vast majority of riders went home with a feeling of having accomplished something big, something they will remember for the rest of their lives, with unforgettable, difficult, moving moments that have marked them forever. Thats why this race attracts riders from all corners of the globe; in the last edition the number of non-Spanish riders increased significantly.

In spite of how it may appear, the GAES TITAN DESERT by GARMIN is not only for supermen. It is a race for all those who are willing to make a sacrifice and obtain a reward, for all lovers of cycling in good physical condition who are looking for a challenge where they can put their physical and mental training to the test. Because when you have no strength left, when you think you have reached your limit, that is the time when you must go that one bit further, to test yourself to the maximum.

Were not going to go so far as to say that this is a race for everyone. We know it isn't. It´s a race for the courageous, for people willing to reach their limits and go beyond them. It is a race for sports lovers of all ages. It's not important how old your bike is. The only important thing is a desire to participate, to overcome your limitations.

The spirit of this race is impregnated with the effort of all the riders who have participated before, both those who arrived at the finish line and those whose goal was to prove to themselves that they could achieve something that few others are capable of. It is they who are the soul of the race, a race which has attracted some of the greatest names in cross country biking, such as Oscar Pereiro, Laurent Jalabert, Claudio Chiappucci, Roberto Heras, Abraham Olano and Melcior Mauri.
Contact